Rural Mobility in Scotland

Cairngorms Connected is a Rural Mobility as a Service (R-MaaS) or rural transport /mobility project, based in Scotland in the Cairngorms National Park, the largest National Park in the UK, and was established during the Mobility Challenge Scottish Enterprise process in 2015/6. The area has a population of 18,000 living in an area of 4500km2 (which is larger than Luxembourg) with 2million visitors per annum and 1.2million visitors to the town of Aviemore alone. The challenge is not only the complex civic structure but the disconnect in transport for visitors and residents with car reliance critical whilst also a poverty tool for many. Our vision is to develop new needs-based mobility services that connect people & organisations and open up new opportunities for the local economy. A collaboration of stakeholders ranging from local authorities, Regional Transport Partnerships (RTPs), local and national transport providers through to community organisations and businesses is key to achieving the aim, and as no such facility existed to bring these people together, Cairngorms Connected was created. The stakeholders, through the sharing and connecting of mobility data will help not only enable communities and stimulate economics growth but also offer choice to people and organisations living, working or visiting in the Cairngorm Park Area, where currently the rural geography limits choice.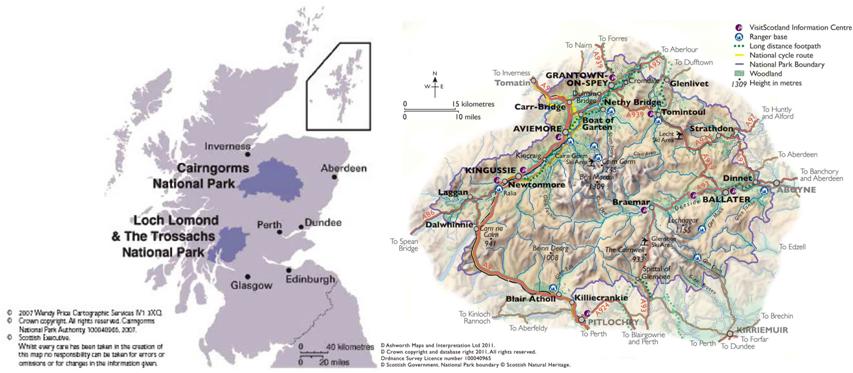 The project did not only develop a Strategic Business Case in 2017/2018 but then inspired and developed a PhD through the University of Aberdeen in partnership with HITRANS (Highlands and Islands Transport Partnership) and ETP (Energy Technology Partnership). Furthermore, as a result of previous work, the Cairngorms National Park area featured as a Pilot Lab for the EU funded INCLUSION project. Success continued in 2019 when the project won funding through the Design and Innovation Call at Innovate UK. Work continues not only through the PhD but behind the scenes with the multiple stakeholders. The bringing together of stakeholders has, to date, facilitated other projects and provided the basis for the creation of the Scottish Rural and Islands Transport Convention and Community. Last, but by no means least, the most important aspect for rural areas is the stronger engagement for all. A key component to Rural Mobility is the co-design, collaborative, user-centred approach which has underpinned this project since it's inception.